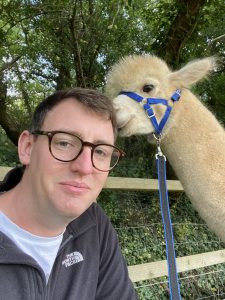 Welcome to 7 Questions! This is our new interview series to help you get to know some of the people in our Church a little better, especially while we're all apart during lockdown. Today we're interviewing Ben. Ben has been our youth worker at St Mary's for the past six years and lives in Billingshurst with his wife Lydia, and extensive collection of musical instruments.
How've you been doing in lockdown? Tell us about something that's been helping you through it.
Lockdown has had its ups and downs for us. While we have (so far) stayed safe and well, we have faced some very sad losses during 2020, which made the year very difficult for us. For me, I am a very outdoor orientated person, I love spending time outdoors in nature, whether that's being in the garden, or at the beach, or in the wonderful English countryside. I have taken to doing a lot more walking during the past 10 months, and have been upping the length of these walks. I have found that it's helped me to process my thoughts, and get new ideas of how to do things. There are so many great paths that go right out from Billingshurst to explore, it's fantastic! 
Now as we know you're the youth worker here at St Mary's. What's your favourite thing about being a part of our Church? 
I love having the ability to get to know so many different people, and seeing people grow in faith. I also love being able to dream, and plan, and help develop different activities for our church family. I am a keen believer that sometimes things need to been seen from a different perspective, and I really enjoy reflecting on how things are running, and if things need to change, working out how to do this. 
Could you tell us a bit about how you became a Christian? 
I was brought up in a Christian family, my parents took me to church from the moment I was born. When I was 8, I was in a communion service at our church, and I remember the minister saying that if any of the children wanted to become Christians then they could serve communion (this was a Baptist church, so slightly different to St Mary's). I really wanted to help with communion, so I became a Christian; this may not sound like a great profound moment, but things happen differently for all of us. From there on my faith started it's journey, and when I was 15 I had moved to another church, and I really felt a call on my life to get baptised, so I did. I haven't looked back since, of course there have been times when I have wobbled, but my faith is something that has always been constant, even when life has seemed all over the place. 
Can you share with us a time when you felt God was speaking to you? 
One of the most obvious times that I have heard God speaking to me was on my Gap Year in Brazil. I was in a team with 3 other people, another boy, and two girls. We were living with two separate families, and there came a time when me and the other boy had to move to somewhere new. The church we were working with asked around, and a family offered us a place, but it was a 30 minute bus ride away from where the rest of the team was living. We met together as a team to pray about it; as we were praying we were encouraged to read Phillipians 4:4-7. It says to give all your worries to the Lord and his peace will land on you. We sat there in a small room and gave God our worries about the move. Immediately we all felt very peaceful. Just after that the missionary who was in charge of us called us up and wanted to meet immediately. When we met her, she told us that the family the rest of the team were living with had offered us one of their spare rooms! So now instead of being 30 minutes apart, we would only be 30 seconds apart! God really worked in this situation, and helped us all to feel peaceful in such a turbulent time. 
We know this is a really difficult time for everyone at the moment. Is there a particular verse or passage from the Bible that's inspiring you at the moment? 
In May 2020 during the first lockdown I read an entry in Bear Grylls' "Soul Fuel" and the reading was Luke 19:10. It says: "For the Son of Man came to seek and to save the lost." While there are many sermons on these passage highlighting that Jesus came to bring people who didn't know him to faith; I really found this helpful to think about Jesus being there to save all of us whenever we feel a little bit lost. During this time of not knowing what is going to happen, I think it's very easy to start feeling lost. No matter who we are, if we feel lost, Jesus will come and find us, and help us back to the right path. 
Ok – now as a youth worker, we know you like to have fun. What's the silliest game you've ever played! 
Oh, the silliest game? That's a hard one, I remember helping a friend out at his church's youth weekend away; and I got the young people playing a game and said that whichever team came last would have to choose a person to get a cream pie in the face. When it came to the end I had prepped my friend to offer to take the pie in their place (an illustration for my talk that evening), but getting to slam a cream pie in his face was amazing, but maybe not the silliest! Some others could include many of the games at May Camp, Penguins (where you have to waddle around the room like a penguin), Animal signs, Teeth, Extreme Spoons, Psychiatrist… all great games! If you've never played, we need to! 
And finally, if you could have any superpower, what would it be? 
Definitely either flying or teleporting… I think teleporting! It would be amazing to be able to go anywhere in the world at any time with no time constraints! America, no problem. Australia, no problem. Running late to church, no problem!