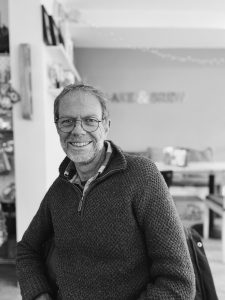 Welcome back to our 7 Questions series! This week we are chatting to David, the vicar here at St Mary's. David and his wife Mary have been with us at St Mary's for 4 years now; stick around to learn a little bit more about David.
Could you tell us a little bit about how you came to be a Vicar, and also how your journey has led you to be here with us at St Mary's? 
When I was at school, I had no idea what I wanted to do as a career! Not long after I became a Christian in my early 20's, I got involved in relief work – spending time in refugee camps Thailand and the UK office of a charity called Christian Outreach (now known as CORD). I knew this wasn't a long term job, and wondered what God might call me to. 
As I thought and prayed about this, people began to suggest to me that I should consider being a minister. At first, it wasn't what I wanted to do – but the more I prayed about it, the more it seemed right, and also still more people encouraged me to think about it. to cut a very long story short, I went through the selection process, went to college in Nottingham, and then worked in churches in Lancashire for 8 years before coming to Sussex nearly 24 years ago.
How did I end up at Billingshurst? Well, about 5 years ago I was asked by the archdeacon (my line manager) to think about coming here to follow Brian Pritchard. I came to meet Sharon and Andrew (churchwardens at the time). We all prayed and reflected on our meeting, and we all felt that this was God's call – so here I am!
Some of us may have seen you out and about on your bike over recent months, could you tell us about your hobbies / interests? 
I love cycling – it's a great way of seeing the countryside and keeping fit at the same time. One day, I'd like to ride from Land's End to John o'Groats. For the time being, I try to ride at least 100 miles each month. My best ride last year was 67 miles round the Isle of Wight in just under 5 hours riding time. It's a beautiful ride, but very hilly!!
I am also seriously into photography; I have a collection of old cameras (the oldest of which is more than 100 years old), as well as a really nice digital camera.
Other things I enjoy include music (I play the guitar and mandolin), and reading trashy novels when I want to be distracted. Mary (my wife) and I both enjoy walking, and one of the ways we've kept sane during lockdown is lots of long walks in the countryside – whatever the weather!
Tell us about your favourite worship song, and why it is your favourite? 
That's such a hard question to answer! Over the years I have sung and loved so many different songs. But right now, there's one that I keep coming back to, and it's "Go Peaceful", written by a guy called Paul Field who I heard playing at Greenbelt a few years ago.
It's a song that we had begun using at St. Mary's before lockdown came along, and I think it has a really powerful message in these difficult times. It reminds us of the great love that God has for us, and our calling as Christians to be people of love, gentleness and holiness whatever we might have to face. It's also a beautiful tune.
If you don't know it, you can listen to Paul Field singing it here: https://www.youtube.com/watch?v=MRj4ExcxZso 
What are your thoughts on how the Covid-19 pandemic will impact the Church over the coming years? 
Well, there's no doubt that it will have a lasting impact, but it's probably a bit to soon to know just what that will be.
One thing that's definitely changed is that pretty much all churches have discovered the importance of what we offer online. Even when we get back to regular worship together in church, I think that may, maybe most, of us will carry on live streaming or putting up videos for those who can't attend.
The massive restrictions that we face even when we are allowed to worship mean that everything feels a bit strange. I hope that through this experience we will realise what a precious thing it is to be free to gather to worship Jesus, and that we will never take that for granted.
It's been amazing to see the many ways that people have found to serve the Lord over the past year, often in simple, practical ways of helping others. I hope that we will never forget that whilst what we do in church is important, what we do outside church is where we really get to meet people, to make a difference, and to demonstrate God's love.
Do you have any funny memories, or amusing anecdotes, for your time at bible college (Vicar School) when training to be a Vicar that you can share with us? 
One of the tasks we were set to do in groups was to come up with a lesson for primary age children based on a Bible story. Our group decided to do an active retelling of the occasion when Jesus met with his disciples after the resurrection, and cooked them breakfast on the beach. We couldn't light a fire in the lecture room, so we fried a packet of whitebait on a camping stove. There were complaints for the rest of the day about the overpowering smell of fish in the lecture room!!
We used to get sent out to preach in the local churches, with the rest of the class coming to assess how we did. On my first turn for this, I as given a lift by a friend to the church I was preaching at. Unfortunately, as we were getting out, he managed to lock his car with the keys inside. So were my notes and everything I needed! I thought I was going to have to do it all from memory, but fortunately he managed to break into his car 5 minutes before the service began.
What is your favourite thing about living in Billingshurst? 
Two things: firstly, the people!
Secondly, I love being able to walk to the shops! I have lived most of my life in very rural places where you have to drive to pretty much anything. Here I can do almost everything I need on foot or by bike, which is great for reducing my carbon footprint.
If you could have any superpower, what would it be and why? 
That's a difficult one! Probably the ability to understand and speak any language. I'm embarrassed that, like a lot of Brits, I can really only speak one language properly: English.